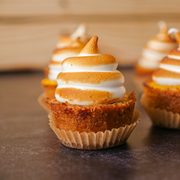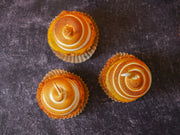 Mini Pumpkin Cheesecakes
📦 Nationwide Shipping
🍪 Baked to Order
🥣 No Artificial Ingredients
Product Info
Satisfy your sweet tooth with our irresistible mini pumpkin cheesecakes. These bite-sized treats are made with a buttery graham crust, a creamy pumpkin cheesecake filling, and are topped with a fluffy meringue that's perfect for toasting at home.
Enjoy a guilt-free indulgence with our mini cheesecakes, packed with all the warm and spicy flavors of fall.
Nationwide Pie Shipping
Please note that our pies can be shipped nationwide for your convenience, but because we use only fresh and perishable ingredients, we require Next Day Air shipping through UPS or USPS. Our pies are packed with the utmost care in insulated packaging with ice packs to ensure they arrive in perfect condition.