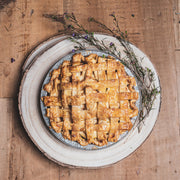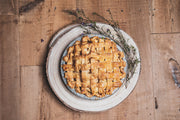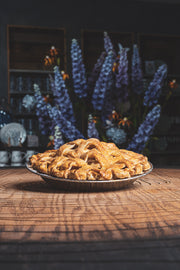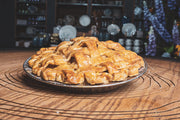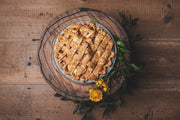 Apple Pie
📦 Nationwide Shipping
🍪 Baked to Order
🥣 No Artificial Ingredients
Product Info
Our classic 9" apple pie is a perfect balance of tart and sweet, made with juicy granny smith apples that are tossed in a mix of ginger and cinnamon sugar. Topped with a mouthwatering sugar oat crumble and baked to a golden brown perfection, this pie is sure to satisfy your sweet tooth and warm your soul.
Nationwide Pie Shipping
Please note that our pies can be shipped nationwide for your convenience, but because we use only fresh and perishable ingredients, we require Next Day Air shipping through UPS or USPS. Our pies are packed with the utmost care in insulated packaging with ice packs to ensure they arrive in perfect condition.