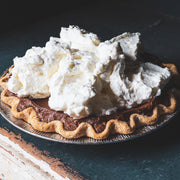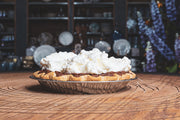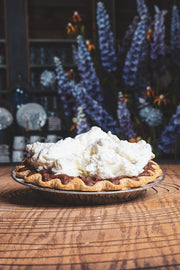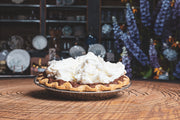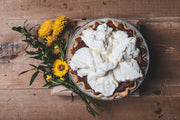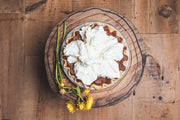 Chocolate Buttermilk Pie
📦 Nationwide Shipping
🍪 Baked to Order
🥣 No Artificial Ingredients
Product Info
Our Chocolate Buttermilk Pie is a chocolate lover's dream! The subtle creamy chocolate filling melts in your mouth, like thick pudding from a pie. Baked to perfection in a classic buttery and flaky pie crust, this pie is finished with mounds of fresh whip cream (not included). We highly recommend eating it warm for the ultimate indulgent experience.
Please note: whipped cream is not included as it does not ship well, but we highly suggest adding it at home for an extra touch of decadence.
Nationwide Pie Shipping
Please note that our pies can be shipped nationwide for your convenience, but because we use only fresh and perishable ingredients, we require Next Day Air shipping through UPS or USPS. Our pies are packed with the utmost care in insulated packaging with ice packs to ensure they arrive in perfect condition.